Top 65 Music Videos of 2005
UPDATE: Wow. What a couple days it's been. We topped 20,000 hits on two consecutive days, which isn't exactly a daily occurrence around here, and the mass of people downloading the videos caused ezarchive's servers to crash, which in turn caused them to terminate my membership (see above post for further explanation, excerpts from the letter they sent me, and an actual graph showing the damage I did). As a result, none of the videos that I hosted on ezarchive, or anything else on this site that I hosted for that matter, are able to be downloaded. However, many of you suggested a brilliant solution, that I build a torrent containing all 65 videos and that way the masses can still enjoy the music video goodness. I had never built, hosted, or seeded a torrent before, but with the help of Ben from Work For It and Scott from Yesterday's Chic, the latter of which is actually hosting and seeding the torrent, I was able to get everything under control. I was also able to fix the formatting issues, so the post is now legible again, so you can read the writeups to accompany the videos. I deleted all of the download links to my ezarchive account, so any download links you see below link to external sources and should definitely be working, which means you can download 22 of the 65 here without downloading the torrent. Everything below this update and the torrent is presented in it's original form, with the exception of the removal of the ezarchive download links, so enjoy. Thanks again to Ben and Scott and to all of you for bearing with me on these most tumultuous of days.



TORRENT FILE:

Top 65 Music Videos of 2005


This post was going to be the Top 50 Music Videos of 2005, but I just threw all the good videos of 2005 into this post thinking it was approximately 50, and then did write-ups for all of them, but turns out it's actually 65, which is nice because it pleasantly accompanies the Top 65 Songs of 2005 post. Soooooo, here is your Top 65 Music Videos of 2005, which I've been slaving over for the past couple weeks.
Unfortunately,
DoCopenhagen
had the same idea and beat me to it, posting his excellent list (which you can, and should, view right
here
) about two weeks ago, back when lists were still the hot thing everyone was doing. However, one thing that my list brings to the table that his didn't is downloadability, as I have made a significant effort to make this list as downloadable as possible. The vast majority of this list can be downloaded and watched using Quicktime (nearly all files, unless indicated otherwise are .MOV, .MP4, or .M4V), and if not, just click the "Watch Video" link to view the video. If the file is an .MP4 or .M4V (meaning that it can be played on a video iPod without needing to be converted), I have indicated that with an
[iPod Compatible]
notice following the download link. Also, there used to be a hack (before the new iTunes store was launched) that enabled one to rip the high resolution music videos to their hard drive, so videos from the iTunes music store are indicated by a
[via ITMS]
. My list also differs from DoCopenhagen's drastically, and I hope as many people can enjoy mine as did his. Finally, I would like to thank the
Antville Video
community for bringing to my attention so many great videos this year, and without them this list would not be possible.
Unlike my top songs and albums list, I'm going to start from the top and work my way down to the bottom, so as to maximize the likelihood that people will watch these stellar productions. Anyway, without further adieu, the number one music video of the year...
1. "
Glosoli"
- Sigur Ros
Directed By:
Arni & Kinski
Sigur Ros never disappoints with their music videos, as they're always cinematic masterpieces, usually centered around children and youthful innocence and bliss. "Glosoli", directed by Arni & Kinski, is no exception, depicting a young drummer boy gathering up the other denizens of what appears to be an adult-free utopian land, and leading a revolution to freedom. When I bought Takk…when it first came out as a promotion I also received a DVD with this video on it, which I value nearly as much as the CD itself. I immediately rushed back to my dorm room and put it in the DVD player, turned off the lights and sat on the floor Indian-style too close to the TV like an 8 year old watching cartoons after school. After it's conclusion I nearly passed out, then later I watched it when I was high and thought that maybe I had just been reborn. The shot when the children (most beautiful children ever by the way… not in a creepy Devendra Banhart way I promise) are running up the cliff as the birds fly over the ocean is perhaps my favorite scene in any piece of cinema this year. When I originally posted the video on the site I likened watching it to a life-changing experience "on par with losing your virginity or seeing Garden State for the first time" and I still feel the same way. Download this in high-ass resolution cinematic widescreen view above. Please.
2.
"Human"
- Carpark North
Director:
Martin De Thurah
Perhaps the boldest video of the year for Danish band Carpark North's "Human". Director Martin De Thurah casted children who were professional dancers, but only on the condition that they "dance ugly". As a result, De Thurah successfully captures children at their most awkward stage, the "final moment(s) of adolescent empowerment before the crippling and transformative loss via puberty" (lusk81,
Antville
). The shot with the child slamming his fist on the table as the rest of the room explodes is one of the best of the year, the first hint of these children's supernatural powers in the video. This video will go largely unseen due to Carpark North's relative anonymity (complete anonymity in the US), which is a shame, as its incredible lighting, perfect casting, and flawless direction add up to an unbelievable viewing experience.
3.
"Only This Moment"
- Royksopp -
Download
Directed By:
Brendan McNamee & Robert Chandler
Like Sigur Ros, Royksopp is another band that never fails to release breathtaking music videos. "Only This Moment" proves to be one of their best yet, referencing the Paris 1968 uprising. Shot using a vintage style and incorporating actual footage of the Paris '68 protests (I believe), as well as adding mind-boggling after effects, this video grabs the viewer and doesn't let go until it's over. The shot with the hands on the table and the shot with the mind-blowing birds flying overhead towards the end are both brilliantly done and I would recommend this video to anyone (especially if, you know, you're high).
4.
"Blue Orchid"
- The White Stripes
[iPod Compatible]
Director:
Floria Sigismondi
Director Floria Sigmondi creates another masterpiece here for The White Stripes' "Blue Orchid" that can best be summed up as creepy, though still incredible. Just as dark and creepy as the enigmatic Jack White can be, the video reflects the urgency and aggression of the song. Jack's new wife, red-haired model Karen Elson, appears in the video as the haunted female lead, first in the eerie high heeled shoes (high-heeled being an understatement) as she walks down the stairs, then later writhing around with white snakes as Jack looks on. Meg White smashes some plates and bangs some sticks, and creates her usual rudimentary percussion. The entire video has the signature Sigismondi gothic feel, and is possibly her best clip since she directed the Sigur Ros' video for "Untitled #1 (Vaka)" in 2003.
5.
"Apply Some Pressure"
(Version 2) - Maximo Park
Directed By:
Diamond Dogs (Colonel Blimp)
This is actually the second video made for Maximo Park's near-perfect single "Apply Some Pressure", and though the first video was quite good as well, this one is incredible. Awesome stop-gap animation and zany antics from the lovable Paul Smith, as well as an incredible effect with the drawers opening and closing to the rhythm of the percussion. I'm not that big a fun of the unnecessary nosebleed at the end, which only further pounds in the foolish "apply some pressure" pun, but all in all this is definitely one of the year's best.
6.
"What Else Is There?"
- Royksopp
[iPod Compatible]
Director:
Martin De Thurah
De Thurah took the music video world by storm this year, coming out of nowhere to release two of the year's best in "Human" (see #2) and "What Else Is There", cementing his status as my favorite director of 2005. His brilliant clip for "What Else Is There?" perfectly reflects the dark and eery mood of the song. Everything about this video is incredible, and De Thurah again shows his mastery of lighting, which he first established in his videos for Carpark North and Mew. FUN FACT: The woman portrayed in the video is not actually Karin Dreijer (lead singer of The Knife and vocalist in the song) and is actually Scandinavian model Lizzie Grubman, but Dreijer appears at the dinner table towards the end of the video.
7.
"Smile"
- Mad Action -
Download
Director:
Jonas
Odell

Longtime fans of M3 (i.e. those of you I went to high school with) will remember an incredible, but highly unknown, song called "When You Smile" by Ty Cobb from M3 Volume 1 (which I PROMISE will be posted here in the next month). Well, I recently discovered what happened to Ty Cobb, and it seems they ran into some copyright issues with the Ty Cobb name, and ended up changing it to Mad Action shortly thereafter. They went on to record three new albums (which appear to be available only in the UK) under this name, and from what I can make out of it, all of them were released in 2004. This is curious as they appear to all be full-length releases (the shortest one is 8 songs, and there are 31 songs combined), but regardless, their final "album" of '04 was titled

And Begin...

, and was centered on the single "Smile", a re-recording of "When You Smile" which was released in late 2004. At some point Swedish director Jonas Odell directed and animated a brilliant video for the song, but despite my best efforts I can't for the life of me find out when it was released (even mvdbase.com, my trusted source for video release dates, leaves me hanging), so I'm going ahead and putting it on this list because both the video and the song need to be seen and heard (respectively). The video is a masterful, not to mention trippy, piece of animation, repeated form cuts all maintaining the shape of a face which is singing along to the words. Odell also directed and animated the incredible video for Franz Ferdinand's "Take Me Out" (follow link to watch), which won the 2004 MTV Video Music Award for the year's "Breakthrough Video". I'm also posting the original Ty Cobb version (the new version remains the same except for an unnecessarily added guitar solo of sorts) of the song here for download, so others can rejoice in its glory. I'd love to hear people's thoughts on this song in the comments.

8.

"Fortress"

- Pinback


Directed By:
Elliot Jokelson w/ Loyalkaspar
I've spent hours debating in my mind (not really) over which video, Jonas Odell's "Smile" or Elliot Jokelson's "Fortress", features the best animation of the year, and I still can't decide, but I do know that Jokelson, who worked with Loyalkaspar on this one, created an absolutely stunning clip for Pinback's finest single. I love the beautiful first scenes with the prince and princess frolicking about in the meadows, but the whole thing's wonderful really. I also like the whole crazy eyes thing with the soldiers, but the highlight has to be the choreography scene with the dancing knights. Also of note, Jokelson is the same guy who directed one of last year's best videos, for TV On The Radio' s "Staring At The Sun".
9.
"Believe"
- The Chemical Brothers (ft. Kele Okereke) -
Download
Directed By:
Dom & Nic
Perfectly summed up by 'Boards Magazine: "As we see in Brad Anderson's 2004 film The Machinist, a monotonous factory setting is not recommended for the faint of mind. That theme of unraveling psyche is repeated in this video for the Chemical Brothers, directed by Dom & Nic, as car-part robots menace a man to the point of lunacy. Of course the terror starts slowly at first - a glimpse of a robot here, sensing another there - until a gang of magnificently rendered CG fiends from London's Framestore CFC reduce the poor guy to a trembling puddle of mess. With animation this real, we got a little shaky too."
10a.
"Sky Starts Falling"
- Doves -
Download

10b.
"Hitchcock"
- Phoenix Foundation -
Download

Director:
Reuben Sutherland
These two videos are both directed by Rueben Sutherland, who seems to have gotten a little bit lazy and employed the exact same technique twice (though under different circumstances), but it works both times and both videos are flawlessly produced and immensely enjoyable throughout. I prefer the "Sky Starts Falling" video to the clip for "Hitchcock", though the only major difference between the two is that the former focuses on airplanes (and just flying crafts in general) and the latter on cars, but the "Sky" video if much more visually pleasing and enthralling. Phoenix Foundation's video for "Hitchcock" on the otherhand, offers similar visual theatrics, but with a bit of a plodding, curious plot, and an ending that doesn't really wrap up anything or make sense. However, the point of these videos is not to enthrall the viewer with plot and drama, rather it's to awe them with special effects, and both get the job done handily.
11.

"The Irish Keep Gatecrashing"
- The Thrills
Director:
Waverly Films
This one's a lot of fun. Waverly Films direct a great clip here for The Thrills basically just zooming the viewer along over land and water to various locations around a city where the The Thrills are playing/congregating. However, hold on until the final shot, in which lead singer Conor Deasy zooms along with the camera. I can't really describe this one, but it's definitely immensely enjoyable and one of the year's best.
12.
"So Here We Are"
- Bloc Party
[iPod Compatible]
Directed By:
Alex & Liane (Colonel Blimp)
Wonderful video that carries the track perfectly, Alex & Liane direct one of the year's best clips for this song with beautiful cinematography and especially wonderful camera work at the beginning. My favorite thing about this video is the way it perfectly keeps up and reflects the pace of the song, exploding into fast forward at the same time the song does (at the 2:53 mark). I may or may not have already explained my fixation with London on this site - I was born there, my ex-girlfriend lives there, and I enjoy nothing more than walking through London listening to music (and "So Here We Are" provides the perfect soundtrack for such an activity) - but that is perhaps the reason I love this video so much. UPDATE: It appears this was released in 2004, though it wasn't until the final week of '04 so it's going to stay on this list.
13.
"Smile Around The Face"
- Four Tet
Director:
Dan Wilde
Follows the day in the life of a weary, middle-aged man (played by Mark Heap) as he goes about his daily activities (getting ready in the morning, taking the bus, playing with his kids) featuring brilliant use of the snorry-cam technology, in which the camera films the subject while mounted on the subject's body.
14.

"Honest Mistake"
- The Bravery
[iPod Compatible]
Director
: Mike Palmieri
No overanalysis needed here, this is just an extremely fun "domino effect" video inspired by Fischli & Weiss' 1987 short film "The Way of Things" (go
here
to see a short clip from that film). I love the subtle use of color also, as well as the muffled/altered sound when the proceedings go underwater through the fish tank.
15.
"Tribulations"
- LCD Soundsystem
[iPod Compatible]
Director:
Dougal Wilson (Colonel Blimp)
Another fun video, this time from LCD Soundsystem for "Tribulations". Wilson directs a well-executed homage to Michel Gondry's classic video for
"Lucas With The Lid Off"
(follow link to watch) in which James Murphy walks in and out of film projections and reality.
16. "Daft Punk Is Playing At My House"
- LCD Soundsystem
[iPod Compatible]
Director:
Chris Cairns
The second consecutive great LCD Soundsystem video on this list, this one, directed by Chris Cairns, also includes a Gondry reference, though it's more subtle this time (peep the outfits of the dancers in the living room, then think back to Gondry's "Around The World" video for Daft Punk). The video's also highly reminiscent of Gondry's "Hardest Button To Button" video, but is an original take on that concept, and I really like the use of color and effects in this video
17.
"C-C (You Set The Fire In Me)"
- Tom Vek
Director:
Adam Bartley
First of all, I've loved this video since June and have been looking for months for a Quicktime version so that I could download it, but found absolutely NOTHING, and then today I'm looking for a screenshot of it to put in this post and voila, I stumble across this in all its Quicktime glory, so you all will now be able to download it as well. But on to the video... Wonderful and obvious (though it doesn't matter) use of a green screen in this clip, in which Bartley focuses on the miltaristic percussion of the song and has Vek march as a drummer boy in an an infantryman outfit, with the help of two seemingly Tim Henson-inspired muppet-esque gremlin-looking things. Gremlin #1 rocks the trumpet while the other one helps out Vek by holding his bass drum, and in the background trippy-ass fireworks go off as environments whiz by incongruously to Vek's slow marching pace.
18.
"Leaf House"
- Animal Collective -
Download
Director:
Dirty South Films
Animal Collective's "Leaf House" video is nearly as insane and ridiculously all-over-the-place as the song itself, which is a definite accomplishment for Dirty South Films. I love the "kitties" part at the end. Priceless.
19.

"Hoppipolla"
- Sigur Ros -
Download
Director:
Arni & Kinski
Arni & Kinski direct their second fantastic video of 2005 for Sigur Ros, and though it is not quite as magical and breathtaking as their clip for "Glosoli" (though nothing can be), it's still a beautifully directed video in its own right. Arni & Kinski forgo the child actors usually cast in Sigur Ros videos for older senior actors, though the theme of youthful innocence remains. The seniors cast relive youthful hijinx (ring-and-runs, shoplifting, impromptu battles, excessive puddle jumping - "Hoppipolla" directly translates to "Jumping Puddles"), before eventually wandering back into (what appears to be) a graveyard from whence they came, having awakened for one day to relive the youthful innocence of their past life.
20.

"16 Military Wives"
- The Decemberists
[iPod Compatible]
Director:
Aaron Stewart
Here Aaron Stewart directs a very clever social commentary on the state of international relations that utilizes a private school's mock-UN as a microcosm for the state of the world. Colin Meloy portrays America, declaring war on whomever he pleases (even poor Luxembourg, as played by Chris Funk) and generally inspiring resentment with everything he does. Eventually the other nations (mostly portrayed by members of the band) lead a musical uprising against America and Meloy is left broken and buried beneath a pile of crumpled up paper, which I guess is the schoolyard equivalent of getting sanctioned by the UN.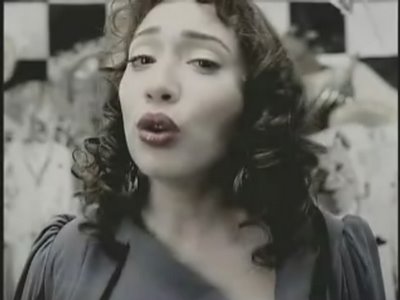 21.
"Us"
- Regina Spektor
Director:
Adria Petty
This is a wonderful video, and also the first time I had heard the unique voice of Regina Spektor. She's got a kind of Tori Amos meets Joanna Newsom meets Fiona Apple meets Bjork thing going on, which I know, isn't terribly descriptive, but it's nice. Her distinct New York accent gives her songs a kind of showtunes-ish Broadway feel, which isn't normally my thing, but I like it here. Adria Petty directs a great clip for the video too, centered on stop motion and other cool techniques. The whole clip has a wonderful fantastical feeling to it, and I especially love the big playful piano keys and that telegraph-looking machine (I think that's what that is) that types out the words on the wall. Definitely one of the year's best.
22.
"Bom Bom Bom"
- Living Things -
Download
Director:
Floria Sigismondi
I really don't like this song, let me just clear this much up. But this list isn't about songs, it's about the best music videos of the year, and Floria Sigismondi directs a brilliant clip here with some of (if not) the best animation of the year. Sigismond is actually married to the e the lead singer of the band, which is definitely good for them, as it means they'll keep getting great video treatment for their highly mediocre (at best) songs.
23.
"Banquet"
- Bloc Party
[via ITMS]
Director:
Scott Lyon
This is actually the third video for GWFAS' song of the year, "Banquet", and though I didn't see the second version (which doesn't seem to exist
anywhere
anymore, if anyone knows where I can find/see it, I'd be thrilled) it definitely outshines the original, which was a simple black and white band performance clip. This video is very simplistic - basic black and white performance footage highlighted by subtle use of color and camera movement - but I enjoy it immensely. This could just be because I love Bloc Party and everything about them, so this may not be for everyone. Towards the end of the clip they focus on the emotionless audience, the "left behind" generation Kele is singing about, and the subtle use of color is again employed to lovely effect. This
should
be boring but I find myself watching (and enjoying) it again and again.
24.
"Why Are You Looking Grave?"
- Mew
Director:
Jared Albertin
Albertin directs another stellar clip nearly on par with his amazing "Apply Some Pressure" video, this time for Mew's "Why Are You Looking Grave?". This is basically just a bunch of awesome random special effects all coming together to make an absolutely awesome video. I love the cinematography and the part where the horizon becomes detached from the ground towards the end of the video, the latter of which is one of the coolest things I've seen all year.
25.
"Your Ex-Lover Is Dead"
- Stars -
Download
Director:
George Vale
Another homage to the work of legendary music video director Michel Gondry (see LCD Soundsystem's "Tribulations" video at #13), this time director George Vale pays tribute to Gondry's 2004 cinematic masterwork,
Eternal Sunshine of the Spotless Mind
. The infamous scene from
Eternal Sunshine
(that is also the cover art for the DVD and movie poster) where Jim Carey and Kate Winslet lie on the ice is replicated (though some would say "ripped off") here, and provides a perfect metaphor for the fragility of post-break up relations and wonderfully represents the icy feel of the song. The constantly-forming cracks in the ice are a nice post-production touch as well, and though some would say this is merely a rip off of a scene in a Gondry movie, a more fitting video could not be made for this song.
26.
"Galaxies"
- Laura Veirs
Director:
Terri Timely: Video Band
Terri Timely is the working name of a group of directors who have formed a "video band", and one of their finest accomplishments so far is their video for Laura Veirs "Galaxies". According to the video "band", "the idea was to have the visuals represent things changing seemlessly from the micro to the macro or vice versa (the lyrics of the song deal with this). Like the tear turning into a book in the water or the when the house sinks in the ocean and then is revealed to be in a photo developing bath". The clip has a wonderful mysticism and fantastical quality to it, and really takes the viewer to another world, all the while perfectly reflecting the feeling of the song.
27.
"Cold Hands (Warm Heart)"
- Brendan Benson
-
Download
Directed By:
Waverly Films
This is a very clever and adorable video courtesy of the guys at Waverly Films, who manage to make a creative and thoroughly entertaining clip revolving around the not so charmed life of stick figures, all the while demonstrating how to make a great video with using a low budget and performance footage.
28.
"Helicopter"/"Pioneers"
- Bloc Party
Directed By:
Minivegas
Download "Pioneers" Version
[iPod Compatible]
Download "Helicopter" Version
In an interesting/lazy turn of events, Bloc Party released only slightly different versions of the same video for two different songs. In the UK they released this as the "Pioneers" video, while in the US a slightly different version of the clip served as the promo video for "Helicopter", which has been getting heavy rotation on mtvU here. Here I'm making available to download the "Pioneers" version, which I believe is more appropriate for the song's subject matter. In the clip, Bloc Party are taken by a giant beetle (I know, weird) to an alternate universe where flowers ascend to the skies held to the earth by chains, and pig/lizard hybrids terrorize unwanted visitors. Though I don't love the character animation here, the animation of the environments is top notch and makes for a great video. I especially love the part at the end in which they enter the barrel of the gun and are shot into outerspace where they reacquire their instruments once again. The "Helicopter" version, while pretty much the same, works also, but is less appropriate, considering the song's anti-Bush/anti-American subject matter.
29.
"Middle Of Nowhere"
- Hot Hot Heat -
Download
Director:
Marc Webb
This is a well-shot, rather simple clip byfor Hot Hot Heat, in which HHH lead singer Steve Bays is performing with the rest of the band and takes a bathroom break, returning only to find that everyone's vanished and that he's literally alone in the "middle of nowhere", an existentialist abyss if you will, by himself. I really like the way this video is shot and the retro cinematography, and how the camera reveals those around him but he can't see them. Just a really well done video that nicely reflects the song.
30.
"Chocolate"
- Snow Patrol
[via ITMS]
Director:
Marc Webb
I really don't have much to say about this one, the second consecutive clip from Marc Webb on this list. There's no analysis needed, as it's more or less straightforward, it's just a clever, well-done clip that's thoroughly enjoyable. There are a lot of nice little touches, it's a clever premise revolving around the public's hysterical reaction to the end of the world, and the viewer is enthralled throughout, but there's nothing terribly groundbreaking or anything here. Just enjoyable. Nothing more, nothing less.
31.
"Be Gentle With Me"
- The Boy Least Likely To -
Download
Director:
Ed Holdsworth
So I'm not sure if this is '05 or '06 because I just found this today, but it's going on this list regardless because it's just so good. It's wonderfully adorable, just like the band's songs, and all those cute little characters on the album cover even appear in the video too, which is lovely. And I think there's a cameo by that actress who used to be on
Boston Public
(which was an AWESOME show), but I can't really tell if it's her. I really love what they do with the twinkling of the stars corresponding to the twinkling of the xylophone, but this might just be because I've got an undying love for the xylophone, which I've just recently realized. Anyway, this video's 1000% lovely, so do watch it.
32.
"Walk Away"
- Franz Ferdinand
Director:
Scott Lyon
Not much to say here, jus6 a well-produced ode to Hitchcock courtesy of Scott Lyons. I especially like the transitions in this one, particularly between black and white and color, and the entire train sequence is quite lovely. But yeah, it's a great clip, and as an added bonus it's in ridiculously high resolution, even moreso than those videos ripped from the iTunes Music Store.
33.
"Feel Good Inc."
- Gorillaz
[via ITMS]
Directed By:
Pete Candeland & Jamie Hewitt (Passion Pictures)
More great animation courtesy of Pete Candeland, Jamie Hewitt, and the rest of the Passion Pictures team for Gorillaz' "Feel Good Inc." video. Though I'm usually not a fan of the sordid character animation used to portray Gorillaz', and I'm still not here, the environmental illustration steals the show in this clip, and this is worth watching for the windmill-in-the-clouds shot alone.
34.
"Exodus Damage"
- John Vanderslice
Director:
Brent Chesanek
Brent Chesanek directs this stirring clip for the best song on the guy with the best name in music's 2005 release,
Pixel Revolt
. I really like the washed out, retro feel of the cinematography, and all the still shots of America. The 9/11 theme of the song is reflected beautifully in the video, but I can't figure out if the kid's a terrorist and he's plotting things to blow up or if he's trying to solve a mystery or what. I just really love the look of this clip, and I think it represents the song perfectly.
35.
"Easy/Lucky/Free"
- Bright Eyes
[via ITMS]
Director:
Lily Thorne
Lily Thorne directs a brilliant clip here, as Conor Oberst illustrates the song's lyrics writing in a permanent marker on what appears to be a clear sheet of glass or plexiglass. I originally thought that Thorne just filmed Oberst writing on the glass (which would cause the text to appear backwards to the viewer) and then flipped/mirrored the film in editing so as to make the text able to be read by the viewer. However, I've since been informed that most (if not all) left handed people (as Oberst is) have an uncanny natural ability to write backwards, so Thorne may have just had Oberst do that, but either way its a great clip.
36.
"Breathe Me"
- Sia
Director:
Daniel Askill & Sia
A bunch of different series of polaroid photos moving in fast-motion photo animation clip. Though this is not the first time the photo animation effect has been put to use (the technique is also used briefly in another video already on this list, Royksopp's clip for "Only This Moment" at #3), director Daniel Askill uses it to great effect, and it suits the song perfectly. According to
Antville
, Askill used 2,500 polaroids over a three day period to create this clip, and what must have been a painstakingly tedious effort pays off in this fantastic video.
37.
"Heartbeat"
- Annie
[via ITMS]
Director:
Mark Adcock
A fairly straight-forward, low-budget video for "Heartbeat", the highlight of Annie's 2004 debut album,
Anniemal
, and
Pitchfork's number one single of 2004
(though the video wasn't released until February 2005). Fairly simple techniques used here to wonderful effect, director Mark Adcock
38.
"Hung Up"
- Madonna
Director:
John Renck
The jury's still out on whether or not Madonna's too old to be wearing so little clothing, though I'm pretty sure you're not supposed to be getting all freaky-naughty in the back of a club with lots of different guys after you've birthed two children and celebrated your 47th birthday. But I don't know, maybe I just need to get with the times. However, all that aside, this is still a great video for, I'll say it, a great song (well, to be more accurate, a great ABBA sample), and I really love the look of the video and the whole international dance-off idea. I can't necessarily explain why, but I do.
39.
"Nobody Move, Nobody Get Hurt"
- We Are Scientists
Directed By:
Lonely Island
What makes We Are Scientists so awesome, aside from their ridiculously catchy riffs and addictive hooks, has to be their sense of humor, which is always most evident in their videos. "Nobody Move, Nobdoy Get Hurt", directed by comedic directors The Lonely Island (the same guys behind Awesometown and the incredible SNL "Lazy Sunday" skit), was their first formally released video, and features the band desperately attempting to flee a pursuing bear (who is hilariously obviously a guy in a bear suit). High drama and suspense in this one, folks.
40.
"Destroy Everything You Touch"
- Ladytron
Director:
Adam Bartley
Bartley's second fantastic video on this list, this time for UK electro foursome Ladytron's hot-ass single "Destroy Everything You Touch". Bartley juxtaposes the hotness of the song with a frigid wintery setting in his video, in which he actually builds the band members into the landscape, which is a really cool effect. I don't have much more to say about this one other than that it's really awesome and that you should definitely watch it. Also, if you haven't heard the song, you can download it from my
Top 65 Songs of 2005
post.
41.
"The Denial Twist"
- The White Stripes -
Download
Director:
Michel Gondry
Gondry, possibly the best music video director in history (I mean, just watch the video for "Star Guitar", which as a special bonus you can watch below), directs another great video for The White Stripes here. Though it's not quite as good as some of Gondry's previous work with the Stripes ("Hardest Button To Button" and "Fell In Love With A Girl" are two of the best videos of all time), it's still an incredible directing accomplishment. I could definitely do without all the Conan banter, which is why this slips down on this list a bit, but Gondry's work with the camera is mind-blowing here, to the point that he's actually toying with the viewer with his perspective magic.
42.
"Neighborhood #3 (Power Out)"
- Arcade Fire
Director:
Plates Animation
Plates Animation, who also directed that awesome video with all the penguins for The Shins' "So Says I", direct a clip that a lot of people were dissappointed in, but I love, for Arcade Fire's best song, "Power Out". I think the animation is perfect for the mood and theme of the song, and I really like the video's literal interpretation of the song. I'd say this is even better than their clip for "So Says I", so I'd definitely highly recommend this one.
43.
"The Great Escape"
- We Are Scientists
[iPod Compatible]
Directed By:
Lonely Island
Many bands live by the mantra of the band as a unit, one team functioning towards the same goal, which in most cases is rock and roll glory. Alright, I made that last sentence up. I've never been in a band, so I have no idea if that's true, but I assume that it's at least true some of the time. However, in their video for "The Great Escape", another comedic clip from the guys at Lonely Island, We Are Scientists take that mantra far too literally, moving as a threesome in everything they do. This is another fun video from WAS, and as an added bonus we get a cameo from that good-looking girl in Bishop Allen.
44.
"Are You The One?"
- The Presets -
Download
Director:
I hadn't heard this song before, from Australian dance rockers The Presets, and both the song and Kris Moye's video for it are excellent. Moye employs a veritable smorgasboard of lo-fi special effects that all work together to form an excellent effect that nicely reflects the kitschy catchiness and lo-fi electronic elements of the song.
45.
"I Need Some Fine Wine..."
- The Cardigans -
Download
Directed By:
Jakob Ström and Martin Renck
Brilliant, well-shot, well-directed extremely high-resolution video from The Cardigans, featuring close ups of frontwoman Nina Perrson in all kinds of lovely outfits, which trust me, is never a bad thing.
46.
"Shadowland"
- Youth Group
[via ITMS]
Director:
Mathematics
Absolutely beautiful animation here from Mathematics, possibly the year's best, but unfortunatley there's no real direction or plot to complement the visuals.
47.
"Hell Yes"
(Version 2)
- Beck -
Watch
(go to video section)
Director: Garth Jennings
From
Sony
: "Sony's humanoid QRIO (formerly SDR) robot can dance, react to its environment and get up from a fall. Amazing small, self-contained robot! Sony's goal: a personal entertainer." From VH1: "There are only four working QRIOs in the world. And all of them appear in the "Hell Yes" video ... Director Garth Jennings says, "They have such an unbelievably fluid range of motions, so Beck and I just had to work out an elaborately choreographed number for them. I think it took the programmers in Japan about three weeks to program the routine into each robot." Very cool video featuring the only four functional QRIO robot's in the world, courtesy of Beck and director Garth Jennings
.
48.
"Goods (All In Your Head)"
- Mates of State
Director: Jonathan Yi & Sam Goetz
For their most recent single, "Goods", which was also one of my favorite songs of 2004, Mates of State held a "Make A Mates Of State Video" contest, which was won by fledgling directors Jonathon Yi and Sam Goetz. I don't know if the stars of this video are supposed to be retarded brothers, or just retarded best friends, or not actually mentally handicapped at all, but I know this is an adorable video. One of my favorite things about the song is how it completely changes its mood and pace halfway through, and the best thing about this video is how perfectly it reacts to and reflects the change in the song. Excellent cinematography also, I really like this one.
49.
"Going Missing"
- Maximo Park
Director:
Chris Cairns
Director Chris Cairns does a wonderful job employing the super slow-motion effect, and singer Paul Banks turns in quite a performance in this, Maximo's second-best video of 2005.
50.
"Rubber Johnny"
- Aphex Twin -
Watch Video (Flash)
Director:
Chris Cunningham
This was the clip that one
DoCopenhagen
's #1 spot on his Top 50 Music Videos list, but it slips down aways on mine because frankly, it creeps the shit out of me and doesn't really leave me with any desire to watch it again. To be honest, I've only watched this once and I probably won't watch this ever again, because it's hard for me to gleem any enjoyment from it when I'm so creeped out. However, it still deserves a spot on this list, because as unenjoyable as it is for me it's still one of the best cinematic accomplishments in music videos this year.
51.
"Since U Been Gone"
- Kidz Bop Kids -
Download
Directed By:
Wormseye Films
Instructions:
1) Start video.
2) Chuckle a little maybe at the animals in the back-up band and stuff.
3) Wait until the 2:35 mark (right after Tiger does the splits), check out the asian kid.
4) Commence hysterical laughter.
52.
"Inaction"
- We Are Scientists
Director:
Eric Gross
I've frequently compared We Are Scientists to an indie-rock version of the Stella comedy group (Michael Ian Black, Michael Showalter, and David Wain), and you can really see the likeness in the witty banter that opens this clip. Basically, things get raucous and the guys wake up a sleeping baby, so they decide to sing it to sleep with "Inaction", one of the best songs off of their fantastic debut album,
With Love & Squalor
. Midway through the song they just start breaking shit, until the entire set's in shambles, and seriously, what's more rock and roll than that?
53.
"Mushaboom"
(Version 2) - Feist -
Download
Director:
Patrick Daughters
Shot in Prague, Daughters directs an adorable video for an adorable song, featuring Feist living an imaginary charmed life complete with flying toast, flying Feist, imaginary jewelry, a carousel, and even a cameo by Peaches (she's in the pink, trying to pull Feist down and keep her on the ground). A charming video that fits Feist's style perfectly, highly reminiscent of Mary Poppins.
54.
"Graffiti"
- Maximo Park
Director:
LynnFox
Another great, slick video from Maximo Park, this one was nominated for the PLUG Award for Best Music Video of 2005, and even though that's quite a stretch (it's not even the band's best video of 2005). The wooden finish on everything is a classy touch, and I like the whole moving in a box thing, and it kind of seems like they're getting driven around in the back fo the truck but I can't tell really. Just another great clip from Maximo Park, who're churning out great videos like it's they're job.
55.
"Munich"
- Editors
[iPod Compatible]
Director:
Mark Thomas
The song gets a bit repetitive, but the film noir-esque video's perfect for it and the whole slow-motion frame-by-frame trick (I'm pretty sure that's not the technical term) and creepy aerobics theme works really well in this one.
56.
"Apply Some Pressure
" (Version 1) - Maximo Park
Director:
Jaron Albertin
Though inferior to the new version of the video for this song, which nabbed a spot in my top five, this video is a well-produced performance-based piece that succeeds on a relatively low budget. The video uses a nice double-camera trick, and I also really like the lighting and tonality of the clip, which is somewhat reminiscent of Interpol's "Slow Hands" video from '04.
57.
"Pink Bullets"
- The Shins
[iPod Compatible]
Director:
Adam Bizanski
Director Adam Bizanski uses low-budget live action animation and paper cows to portray the heartbreaking story of love found and lost in this clip for The Shins' "Pink Bullets", one of the best songs James Mercer's ever written.
58.
"Picture Perfect"
- Eskimo Disco -
Download
Director:
Wes West
Using live action and animation, director Wes West creates a clever video that's brilliant in theory and still a great clip, but it could have been executed a little bit better. I love the idea and the animation is great, but all the little paper figures just dance around for a while and the band performs but nothing really
happens
. But yeah, A for effort though.
59.
"First Day Of My Life"
- Bright Eyes
[via ITMS]
Director:
John Cameron Mitchell
Director John Cameron Mitchell directs a perfect clip for the happiest song Bright Eyes has ever written, an absolutely adorable love-fest depicting couples listening to the lyrics of "First Day Of My Life" and nodding agreeably and smiling at each other. Cute.
60.
"Black & White Town"
- Doves -
Download
Perfectly captures the boredom and frustration, and ultimately the feeling of the need to escape, of children growing up in a British factory town.
61.
"Portions For Foxes"
- Rilo Kiley
Director:
Brian Lazzaro
It's a clever video and everything, like, everyone loves taxidermy and whatnot, but let's just be honest: this is just worth watching for the sole fact that it shows the beautiful Jenny Lewis live and in motion. That came out a lot creepier than I had intended, but either way, this is still worth the watch.
62.
"For Real"
- Okkervil River -
Download
Director:
Zak Margolis
Great, dark, haunting animation perfectly reflects the mood and atmosphere of the song, Okkervil's best of 2005.
63.
"New Slang"
(Version 2) - The Shins
[via ITMS]
Director:
The Malloys
Yeah, I know "New Slang" came out in 2001, but after the success of the song on the
Garden State
soundtrack the group re-released it with a new video, courtesy of the Malloy brothers. This one's got a much more
Garden State
-y feel to it, and even has a couple references to the movie (the boat propped up on land near the harbor, for one... see if you can spot any others). Also, has anyone ever noticed how ridiculous Marty's resemblance to Chris Parnell is?
64.
"Don't Save Us From The Flames"
- M83 -
Download
Director:
Matthew Frost
Girl likes boy. Boy doesn't really notice girl. Girl isn't very good at soccer
and
her dog's in a wheelchair. However, girl can still dream and does, becoming a ghost and rising towards the heavens hand-in-hand with the aforementioned boy. Nice video.
65.
"At The Bottom Of Everything"
- Bright Eyes
Director:
Cat Solen
Most adorable plane crash ever.
I'm hosting the majority of these videos, but I'm linking to some of them, so if any of the links don't work just let me know in the comments and I'll fix it immediately. Once again, I'd like to thank the members of the
Antville music video community
, without whom this wouldn't be possible. I'd also like the
Music Video Database
, which served as my primary source of information for directors and release dates. Finally, I'd like to thank my readers, who are the reason I even do this in the first place. As for the lack of updates this past week, I apologize and can attribute that solely to the monstrous amount of work and information that went into this post, and I can promise you that starting tomorrow night everything will return to normal and that Evro and I have some money posts in store for you all. But for now, I must go collapse in a heap of exhaustion, please enjoy.