Eagles of Death Metal: "I Want You So Hard"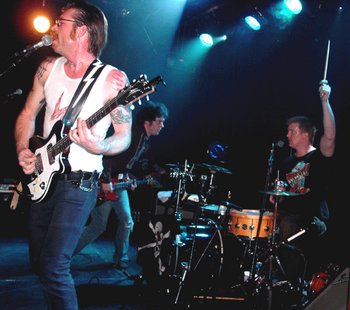 The Eagles of Death Metal are what goddamn rock and roll should be. They're loud and classic sounding - as I wrote on my site, "i love the bluesy-rock sound that they absolutely nail perfectly without sounding fake." A lot of their music sounds like classic Rolling Stones in that sense. Now, onto the video. "I Want You So Hard" is freakin' hilarious. The video guest-stars Jack Black and Dave Grohl as a bartender and a patron, suggesting to a sexy lady that the lead singer of EODM is in fact "bad news". We follow the lead singer as he uses his guitar to apparently create strong winds to blow various people's clothes off.
Yes, it makes no sense, but if it isn't a fun video, I don't know what would be. Thank you commenter Nick for providing the name of the director of this video, Akiva Schaffer of
The Lonely Island
and Saturday Night Live fame.