Lupe Fiasco: "Kick Push"
Lupe Fiasco, out of Chicago, is one of the hottest MCs on the national hip-hop scene. He's apparently a very big fan of skateboarding, and you'll see why in this video, with the use of the "Skateboarding Is Not A Crime" slogan in various spots. He's techincally already appeared once on this website, in
Derek's post
on the Kanye West clip for "Touch The Sky, and I certainly hope he appears again on this site, as his album "Lupe Fiasco's Food & Liquor" has been receiving great buzz - Jay-Z is the executive producer.
As for the video itself - the skateboarding motiv is well executed and doesn't ever overwhelm you, which is a good thing. The camera tricks in the video are similar to that of a normal skate video - close shots and tight angles are the keys to the video.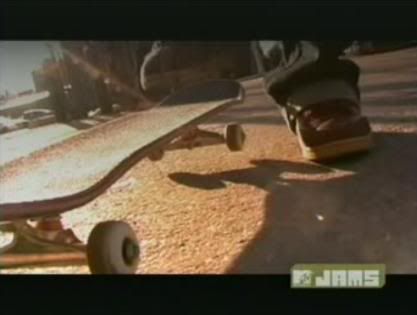 Video
: "
Kick Push
" - Lupe Fiasco
[iPod Compatible]
{Director: Christopher Adams & Hana McDowell}